http://paperbomb.com/wp-cron.php?doing_wp_cron=1513296347.0519590377807617187500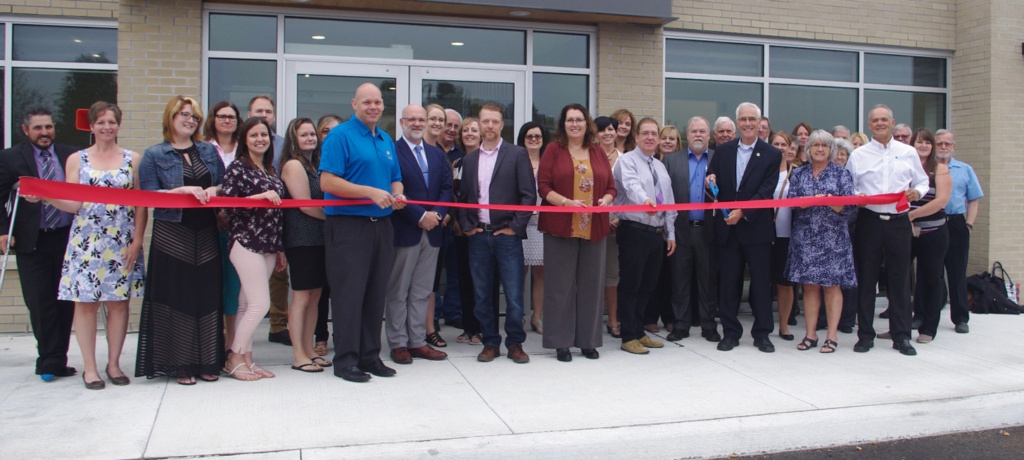 KIRKLAND LAKE – SEPTEMBER 26, 2017
North Eastern Ontario  Family and Children's Service's (NEOFACS) along with Timiskaming Best Start, Timiskaming Child Care, Community Living Resource Teachers Program, One Kids Place, Cochrane Timiskaming Children's Treatment Centre, Timiskaming District Social Services Administration Board, and Cochrane Timiksaming Resource Center are celebrating the grand opening of the Kirkland Lake Children's Services Hub. This newly renovated service hub will provide a multitude of services to more than 30,000 people in Timiksaming District. With an official ribbon cutting, John Raymond, Executive Director, Don Anderson, Board President of NEOFACS along with dignitaries and representatives of the Kirkland Lake Services Hub officially opened the newly remolded facility in Kirkland Lake. Responsive to the local community needs, the newly renovated space provides a central access point for a range of health and social service needs. The modernized 28,000 (approximate) square foot building features modernized spaces and additional square footage. The initial building 24,000 (approximate) square foot building saw an expansion increasing the size substantially with a 4000 square foot addition. This project aligns with Ministry of Children and Youth Services and the province of Ontario's Hub Models for efficient service delivery. The TDSSAB (Timiskaming District Social Services Administration Board) through the Best Start Network are major contributors to this project and we look forward to a joint partnership for shared accommodations." Said John Raymond, Executive Director with NEOFACS. North Bay's Mitchell Architects along with Descon Contracting broke ground in October of 2016 and with an aggressive construction schedule completed the construction in August 31, 2017.
-30-
go to link ABOUT  NEOFACS North Eastern Ontario Family and Children's Services (NEOFACS) is an integrated agency, providing services to children, youth and their families in the Districts of Cochrane and Timiskaming. Our client responsive programs and services are innovative, evidence-based, and designed to meet the unique needs of those we serve. Our Agency provides Child Welfare, Children's Mental Health, Youth Justice and Prevention programs along with a number of other programs and services. NEOFACS is a non-profit charitable organization governed by a volunteer Board of Directors whose funding is received primarily from the Ministry of Children & Youth Services. Several other funders support programs as well.
go to link ABOUT Mitchell Architects Established in 1964, Mitchell Jensen Architects has provided award-winning architectural services to organizations and communities across Northern Ontario for more than 50 years. With offices in North Bay and Huntsville, Muskoka, we offer a skilled and talented team of architects, project managers, technologists, and administrative support staff to serve our clients. We are committed to service beyond expectation, and excellence in design.
For further information, please contact:
John Raymond Executive Director,
North Eastern Ontario Family and Children's Services
Phone : 705-360-7100 Email : john.raymond@neofacs.org
Media Contact: Brooke Ballantyne Communications Coordinator,
North Eastern Ontario Family and Children's Services
Phone: 705-360-7100 ext. 5217